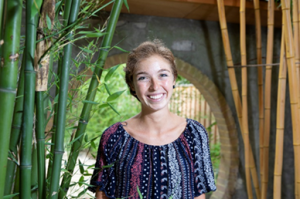 Anna Berti Suman, Marie Curie postdoctoral researcher at the European Commission Joint Research Centre and principal investigator for the Sensing for Justice project, has joined the CitiMeasure project last autumn. She shared with CitiMeasure her expectations and hopes for how citizen science projects can impact future policies and court cases.
What is citizens science for you?
Citizen science is an act of resistance. It's a way to collect evidence to claim different futures for communities and individuals. This resistance stems from social distress, which can be caused by a lack of access to environmental information or from a feeling that the government and, for example, private actors are partnering up at the expense of the community.
I'm looking at instances where the community turns to citizen science out of need, not because of a plan. These forms of citizen science can last longer because people do it out of necessity and don't even label themselves as citizen scientists. Also, not all citizen science needs an app or specific technology; some can be done with basic tools or bare senses (e.g. smell or sight).
So, in short, citizen science is an act of resistance deriving from a community need.
So, citizen science is a form of activism?
It's a form of activism based on science. Protesters and advocacy actors have recently discovered the use of citizen science. For example, in Rome, activists have mobilised to monitor the Tiber River to leverage their claims. By basing their claims on science, they give them credibility. Of course, this also means that they are using science to push their agenda.
Why did you join CitiMeasure?
When I was doing my PhD, I worked on cities and air quality measurements. Then my research moved to the peripheries and more remote areas, so when the opportunity arose to work with CitiMeasure, it was an occasion to get back to cities.
What I found most interesting in the project was that it links citizen science to interact with the political agenda. And this, for me, is the most important aspect to tackle: how can we make citizens science be heard at the political level?
This links to the fact that you joined the CitiMeasure working group on behaviour change and policy. How can citizen science change behaviours and influence policy?
It's crucial to link human behaviour to policy. In my research and my experience with the Sensing for Justice project, I found a link between the level of distrust between the people and the administration, and to what extent policymakers are listening to citizen-gathered data. So, a project like CitiMeasure that intentionally links behavioural change and policymaking inspires me.
You mentioned the Sensing for Justice project. Can you say a few words about what it is and how it links to citizen science?
The Sensing for Justice project researches the potential of citizen-gathered evidence to be admitted in court. So, to be used in the judicial arena as a source of evidence in environmental litigation.
For example, a case that inspired us was civic monitoring of plastic pollution in the Lavaca Bay in Texas, run exclusively by local fisherwomen and fishermen.
They managed to have Formosa plastic company fined for millions of dollars of damage and watch over their remediation. It's a case where the evidence gathered by people through a scientific approach was accepted with no doubt by the court because it was factual evidence. It wasn't contested.
The Sensing for Justice project is looking at similar cases in Europe. So, cases where local people collecting evidence can use this data not only for advocacy or steering policies but to have, if needed, leverage in court.
The court is not the end goal, of course. These can be lengthy and costly proceedings, so we also regard this form of data collection as a tool to mediate conflicts outside the court.
We also want citizen scientists to be recognised the right to contribute to environmental information when the official data is scarce or absent.
To summarise, the project relies on these three pillars: citizen science as court evidence, citizen science as a form of mediation and as triggering legal adaptations like a new right.
What are you most looking forward to within the CitiMeasure project? What's your dream outcome?
The dream outcome would be really to be able to advise a case in a European country where people can use their gathered data in court. This already partly happened with the CurieuzeNeuzen project in Antwerp, which received a lot of media attention, and some of their data was used by Greenpeace to file a case. These cases can demonstrate how powerful this data can be.
Also, having the right to contribute to environmental information recognised in a legally binding text such as the Aarhus Convention could be a written recognition of the value of citizen science.
Is there anything I haven't asked that you would like to add?
Projects like CitiMeasure have considerable potential, but we also need to acknowledge the current barriers. Citizen science initiatives – especially those in remote locations and at a small-scale – need more funding and organisational structure. Without it, they will remain distant from the institutions.
I dream that the CitiMeasure project could expand its understanding of citizen science to the peripheries because such instances are equally impactful, even if less visible.
A critical component is also to communicate outputs and results in an engaging way. What we've been trying to do with the Sensing for Justice projects is to use unusual communication to engage with different audiences. Let's use channels such as podcasts, theatre performances, visual art. I would advise projects to experiment because it will bring you unexpected audiences.